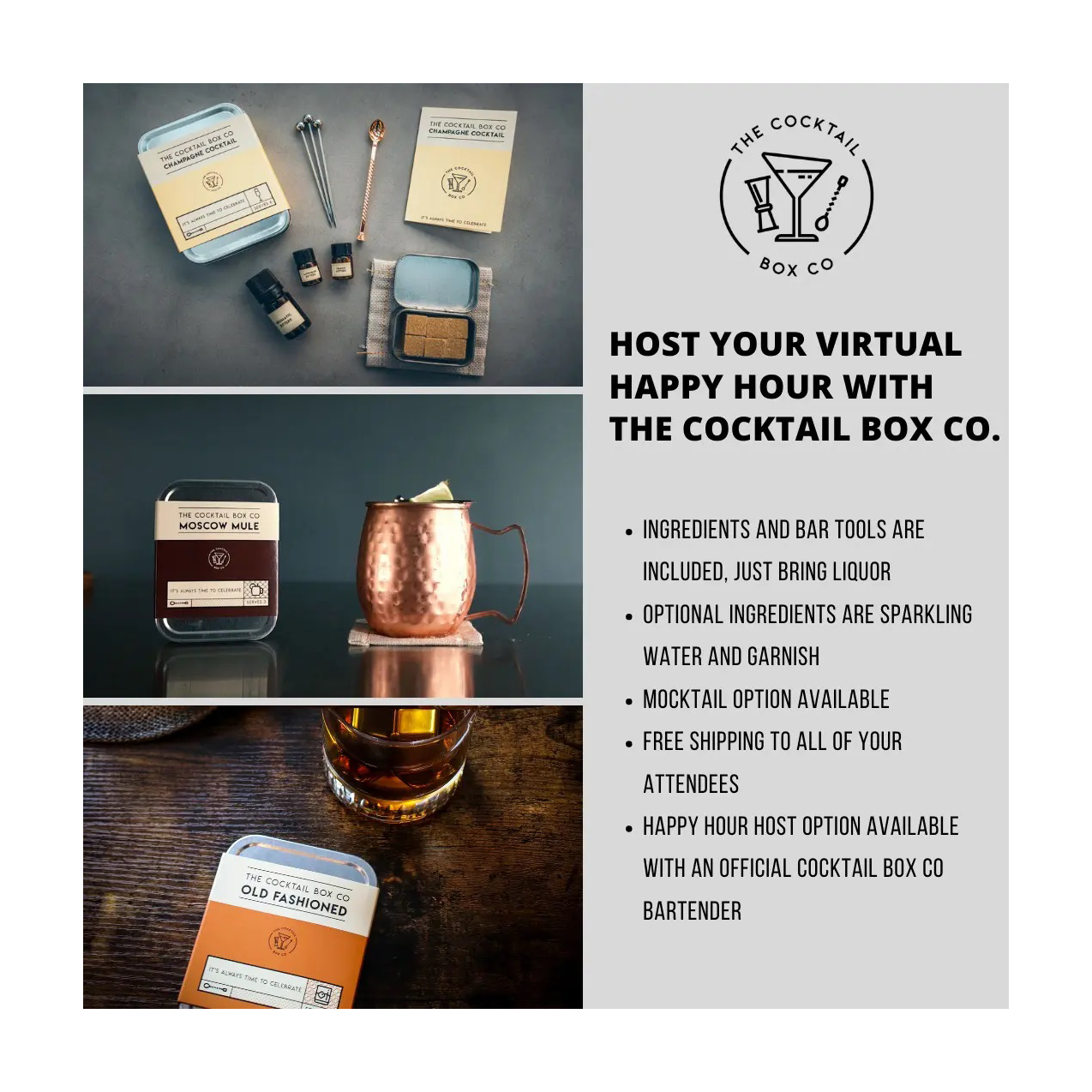 When you can't go to your favourite bar, why not bring the bar to you?
The virtual happy hour is the best way to reunite with friends, family and colleagues in a safe and responsible way.
We provide the ingredients, mini bar tools and instructions to host a fun and engaging experience without the use of complex items.
Our team can distribute the kits to each recipient to remove any logistical hassle.
We make it easy for you so you can go back to doing what you love, spending time with your people.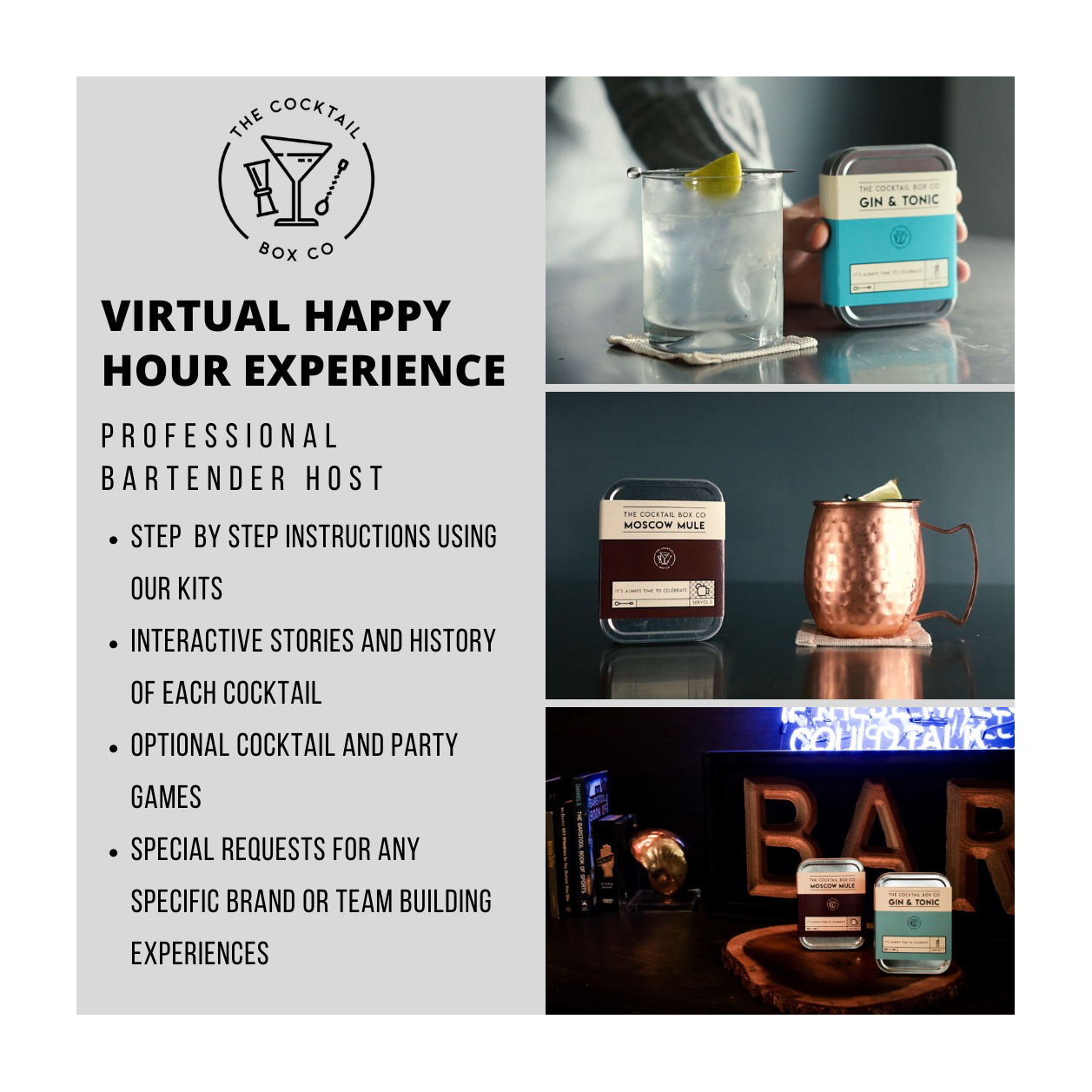 The Cocktail Box Co. is now offering hosted Virtual Happy Hours with our Signature Cocktail Kits.
Andrew, our mixology expert, will host your guests and demonstrate how to craft a cocktail.
He will provide fun facts about your drinks, share tips on garnishing and pairing food.
There will also be a Q&A session so you can learn more about building and enjoying cocktails.
Host your next happy hour with The Cocktail Box Co.  It's the perfect way to kick off a meeting, celebrate a special occasion or share holiday joy.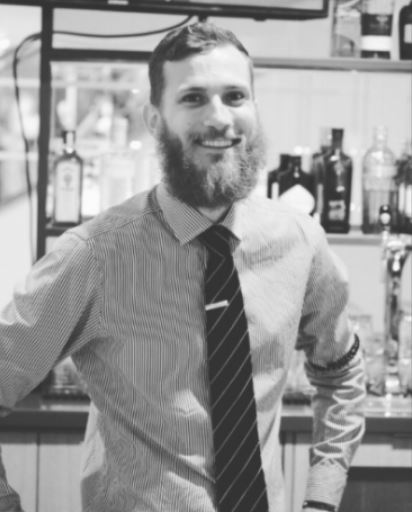 Andrew Fletcher – Mixologist
With over fifteen years of beverage driven curiosity, Andrew has been exploring and creating cocktails from the Balearic Islands to London and eventually landing in Vancouver, BC where the West Coast cocktail culture was flourishing.
Andrew's beverage experience spans across an array of establishments from fine dining restaurants to invite-only cocktail lounges as well as consulting for organizations such as Stefano Ricci and The TED Conferences.
PACKAGE
45 minute Virtual Happy Hour Package

- 1-on-1 Dedicated mixologist to host, guide and interact with your guests as you prepare a cocktail

- 45 minutes per virtual cocktail experience

- 30 minutes additional meeting time (if required)

- Tech-check (if required)

- Flexibility to use your preferred streaming platform of choice

- Interactive remote cocktail quiz - add a prize for the winner with one of our complete bartender sets

- Dual camera feed switching - get close up to the garnish lessons

- Open floor "Ask the bartender" cocktail Q&A
FAQs
Q: Will I get the opportunity to meet our mixologist?

A: Yes, after the date and time of the experience is confirmed, we will confir availability with our team. We will connect your designated event organizer with your bartender.

Q: What kind of cocktails can I choose from?

A: You can select from any of our available cocktail kits. You can visit our store for all available kits.

Q: Can I customize the cocktail kits?

A: Yes, you can personalize the outer sleeve and the recipe card to suit your needs. Please see our "custom" webpage for more details and to request a quote.

Q: Do the cocktail kits include alcohol?

A: No, we do not supply alcohol. This must be purchased separately. We are not licensed to ship alcohol.

Q: How will we view the Virtual Happy Hour?

A: You can provide us with the inviation link you will be sending to your attendees. We are versed in all mainstream platforms - Zoom, MSTeams, etc and will connect 5 minutes prior to the start of the event

Q: Can I customize the experience for my guests?

A: Yes, outside of the 15 minutes of the presentation, you are welcome to tailor down the Q&A session to include other aspects which you would like covered.

Q: How many cocktails can I make during the Virtual Happy Hour?

A: We recommend 1 cocktail kit per experience to allow enough time for each section of the event and open interation.
Virtual Happy Hour
I ordered the Old Fashioned Cocktail Boxes for a virtual event with our mixologist Andrew (Connected through the cocktail box co), for my team at KPMG. The team really enjoyed getting their kits, and with Andrews expertise they learned how to make Old Fashioned's at home. Everyone enjoyed their drink that they made and even attempted to make another one on their own! The customer service was also excellent, had constant contact through out the entire process. I would definitely use these little kits for gift giving or a virtual event.
Misty Russell - KPMG

For small or large corporate events, I would highly recommend these cocktail kits!  Our group of about 35 chose from a variety of kits for a Holiday Happy Hour.  The kits came neatly packed with bitters, sugar cubes, syrups, muddlers, linen napkin, etc.  This was such a great gift to show employees appreciation.  I was lucky enough to meet Chris who made this experience so easy due to his knowledge of the kits and his quick responses!  Not only have I found the best gift for happy hours, I have found a great gift for anyone for ALL occasions!!!

Kelli Roberts - UBS
Our virtual cocktail experience was the highest turnout for a social event my team has seen in recent years, the multi view camera angles, knowledge and personality of Andrew made for a great event

KPMG Vancouver
WE'RE FEATURED EVERYWHERE
(Just click the logo to see what they say!)